We have all abandoned a basket at some point during the checkout process. And undoubtedly there will be lots of reasons why this will have occurred. As a business, simply ignoring shopping cart abandonment is not the smartest move. There is a way that can help online brands reduce or reactivate abandoned baskets using automated email marketing campaigns to remind and entice the subscriber to returning to complete the order.
Introducing these campaigns to your marketing strategy will enable brands to reduce shopping cart abandonment and help drive revenue.  
Before implementing a basket abandonment programme, brands first need to identify if they have an issue? And what percentage of your users are abandoning their online shopping cart at the final stages?
Below are the average industry shopping cart abandonment rates, how does your business measure up?
If you are finding that you have an issue with the number of abandoned baskets, don't panic, you have a massive opportunity to win back these abandoned baskets and drive the users to complete their purchase.  
WHY ARE BASKETS ABANDONED?  
It is well documented as to why baskets are abandoned. The main reasons include:
Higher Than Expected Delivery Costs
How many of these factors feature on your site and are a contributing factor to your abandoned baskets?
Hidden Charges
If retailers are adding extra charges during the checkout phase that are not abundantly clear to the shopper than you are likely to find your abandoned rate will be higher. Keep your pricing simple, clear and fair and you will see a higher purchase completion rate.
Delivery Charges
Offering free delivery? But only for qualifying orders? Again, let the customer know beforehand. Additionally, are your shipping cost out of the norm? For example, if you are shipping a book, that the customer is expecting to be shipped for a couple of pounds/euros/dollars etc. and your site are changing double that, you may find that is a major issue for your customers and they will abandon their online basket.
Payment Methods
Nowadays there are plenty of different ways for transactions to be completed; Debit Card, Credit Card, Paypal, Giropay, Google Checkout, WePay etc.  so it is important for online retailers to embrace the growing trends and accept different payment options available to your customer.
Technical Issues
If the process is broken, and the customer cannot actually complete the purchase than abandonment is inevitable. Make sure you are checking your process and have a robust system in place to alert you to any issues that occur.
User Experience
Don't take this for granted.  How many steps need to be completed in order to complete the checkout? How obvious is it for the customer to complete the correct area's? What security measures are in place to make sure that the customer feels safe and is protected? How long does your checkout process take, compared to other competitors? To make the users experience perfect you will need to make sure that you tackle any issues that you have within the checkout process.  
Forced Registration
This links to the User Experience, but I wanted to single this out. How important is it for you for your customers to register and become members? If this is imperative to your business then, by all means, request this before an order can be completed, however, if not, you could give the option to the customer or allow them to checkout as a guest. It is likely that you will still be requesting the same information for the most part. And after the completion of the checkout, you can easily incentivise them to register with an offer.
Discover the common reasons to online shopping cart abandonment on your site and look at how you can tackle them head-on.
WINBACK ABANDONERS!
After you have tackled the main reasons as to why your customers abandoning their baskets, you will still find that customer are still abandoning! Don't panic, you will not be able to completely stop this from occurring, which is why a basket recovery programme is vital!
How can online brands re-engage their user in order to complete their purchase?
Intelligent Email marketing Campaigns can enable online brands to re-engage their user and drive purchase completion.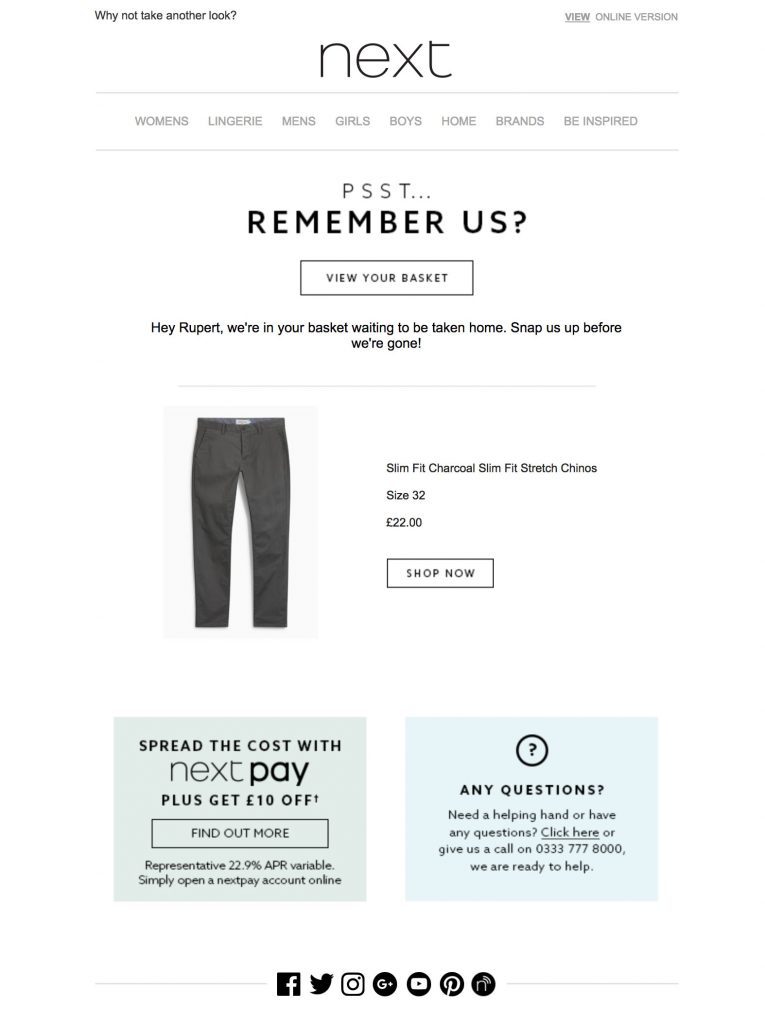 Email is a big player in the cart abandonment recovery campaigns. Email allows you to send a basket recovery email to your subscriber directly into their inbox at the point of abandonment. The email can be behaviourally targeted to each subscriber individually, containing the details of their abandoned basket and recommendations of alternative products that they might also be interested in. The recovery email can also direct the subscriber back to the abandoned basket so they can complete the checkout seamlessly.
An additional benefit of email is that you can create automated campaigns that will send a series of emails to the customer after shopping cart abandonment. This allows online retailers to increase the incentive of the completion through the purchase, for example on email 1 you could  remind them what they left in the basket, email 2 you might offer free delivery or a nominal discount and the final email you could go all in and give them an additional discount if the purchase is completed.
In order for you to use email to target abandoned shopping baskets, you need to know who the shopper is. This is one of the reasons why many sites will ask for registration before checkout can be completed.
Xtremepush are experts in helping brands with basket recovery and re-engaging users across multiple channels. We have work with many companies, including James Villa Holidays and Hungryhouse to help them to drive revenue and increase with shopping cart abandonment recovery campaigns.
To find out about out other solutions can help you reduce online cart abandonment, click here 
This blog post was originally posted on Xtremepush.